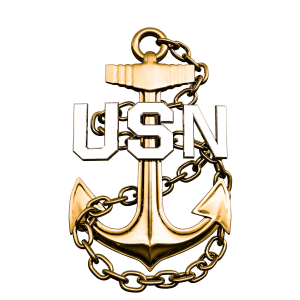 A Navy Chief is almost a Mythical being.
They can and have dressed down Admirals and new recruits with Equal ease.
They are not only experts at their rate, but also in management.
Junior Enlisted know that they can go to their Chief for Sage advice. Junior Officers often hide when in the presence of one of these beings. Senior Officers depend on the Chief's Mess for order and discipline.
A Chief wears an Anchor as the Symbol of his or her rank. That Same anchor is the symbol of the Navy. It is fair to say that the spirit of the Navy, Its tradition, ceremony and its very honor are alive because its Chiefs keep it that way.
The Chief is the anchor of the Navy. Without the Chief's a ship would be just a ship with no soul. Its crew would just be doing a Job with no life.
Words like shipmate would have no meaning. The Goat Locker gives the Ship and its crew its collective Spirit.
To become a Navy Chief is almost impossible. It must be a goal that an enlisted man/woman never loses sight of.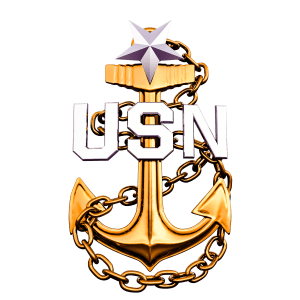 On average it will take a Sailor 15 years to reach the rank of Chief Petty Officer. 17.5 Years to Reach Senior. Chief and 21 Years to earn the Rank of Master Chief.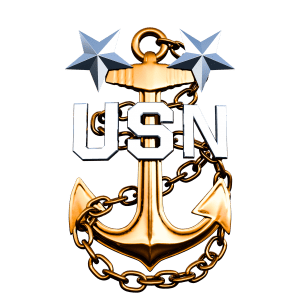 To even be considered, one must have shown their leadership abilities, time as a Leading Petty Officer at Sea, pass a very difficult test and go before a selection board.
Every Step of the way these Sailors are judged. If they are ever found wanting in any area, it's the end of the Road.
The total number of Chiefs, Senior. Chiefs and Master Chiefs on active duty at any given time is about 10% of the total Number of enlisted.
Chiefs make up about 7%, Senior. Chiefs about 3%, and Master Chiefs are less than one percent.
Making custom quality challenge coins and Military belt buckles are one of our specialties. If you're interested in getting a designing a custom buckle or Quality Challenge coin for your Division, Command, or Mess we've streamlined the process, click the get started link at the bottom of the page and someone from our design team will be with you within 48 hours to bring your vision to life. When your working with us, we want to be as transparent as possible if you're looking for shirts, you are going to be working with Chuck's and his Team, If you're working with metal you will be working with Grady's Team.