A little about our Founder and Principle Owner here at Pitch and Rudder LLC
Pitch and Rudder was established off of a simple want, the Maynard family had just came off of an arduous sea tour and wanted to reconnect and spend some time together as a family at the greatest place on earth!  Disney!!  So for a year before we actually established the LLC, Terry designed and manufactured  one custom military challenge coin a month through the different coin pages to take his Family to Orlando once a month.  These were simple designs and nothing crazy, then in June of 16 a few commands reached out and asked if Terry could design and make their Chief Mess Season challenge coins and the rest is history.
AECS(AW) Terry Maynard, (Ret)

AECS Maynard was born in Fresno, CA in November of 1979. He enlisted in the Navy in July of 1997 and completed boot camp at Recruit Training Command Great Lakes.  He then reported to Aviation Electricians 'A' School in Pensacola Fl.  In May of 98 he reported to Patrol Squadron TWO SIX in Brunswick, ME.  After three deployments with the Tridents and advancing to AE3, Senior Chief transferred to the Pioneers of VX-1 in Patuxent River MD.  It was during this tour that he met the love of his life Ashley and they were Married at Solomon's Island, advanced to AE2 and ran the night shift electrical shop.  An old Crusty AE1 took him under his wing and gave him a bit of rudder, "I'm glad you can fix planes….. but when are you going to learn how to lead?"  Senior took the message to heart.   After Completing his rewarding first shore tour, he transferred to the Skinny Dragons of Patrol squadron FOUR.  This tour, is when he realized that we wanted to be Chief Petty Officer.  Completing two deployments with Skinny Dragons, one to 5th fleet and one to 7th fleet he Selected as VP-4s Junior Sailor of the Year and Advanced to AE1.  Even with the career millstones that were being accomplished while being stationed in Hawaii, the highlight of that tour was the birth of their first son Garrett.  After a very rewarding tour he transferred once again to Patuxent River, MD this time to Force Warfare, VX-20.  Once onboard, he was tagged to run QA as the Division LPO and that first year aboard he was selected as Senior Sailor of the Year, and again designated SFF, this time on all 22 platforms and in 2010 he was floored to be selected as A Chief Petty officer.  The Maynard Family grew as well!  Their Second and third Sons were born, Kellan and Landon.  When they entered the state as a family of three, three years earlier, now on their transition to VQ-3 they now were a family of Five!  Joining the Ironman Family of VQ-3, was an eye-opening experience, while apart of this command, Senior ran Night Check Maintenance and was the Aircraft Division LCPO.  It was during this tour that Emmalyn was born their one and only Princess!  Once his tour was completed his family now six strong moved to the land of storms and sunshine in Jacksonville, FL to be a part of Patrol Squadron THIRTY!

While attached to the PROs NEST Senior made some lifelong friends, Founded Pitch and Rudder LLC, advanced to Senior Chief and spent 83 days at Disney!  While assigned to VP-30 he was the Maintenance Supervisor, Line Division LCPO and Maintenance Training LCPO.  From VP-30, the move was a long and arduous one to hangar 511 and the Red Lancers of Patrol Squadron TEN where he finished out his career as the AV/ARM Division LCPO.  AECS Maynard (Ret) has received Two Navy Commendation Medals, Seven Navy Achievement Medals, Six Good Conduct Medals, National Defense Service Medals, Armed Forces Expeditionary Medals, Kosovo Campaign Medal, Afghanistan Campaign Medal, two Iraqi Campaign Medals, Military Outstanding Service Medal, two Humanitarian service medals, and the Global War on Terrorism Expeditionary and Service Medals as well as numerous command achievements and awards.
Now that we know who he is and a little about his history, lets address what he does here at Pitch and Rudder.  (Update:  As of end of 2021 Terry sold all his ownership in P&R to Jason Eland.)
Principle Owner
This is a broad title that pretty much encompasses the lion king metaphor, everything the sun touches is his.  Daily he works with our fulfillment team in Jacksonville to make sure that our orders are getting out as required.  Coordinates the inventory allocations and manages our social media platforms.   When a new product is placed on the site, hes made all the changes to the back end system of the website to ensure that it runs smoothly, uploads the product, writes the SEO content and publishes the final product.  If he's not on the computer working on a system, he's on a zoom call working a collaboration or a business venture.   Advertising and Marketing, all of our plans have been developed through him.  Our new Chatbot, Pitch?  Yep, Terry built it from the ground up.  Do you enjoy our emails?  He builds those well.  He is always looking for new ways to make Pitch and Rudder more effective and easier for the customer to find and utilize.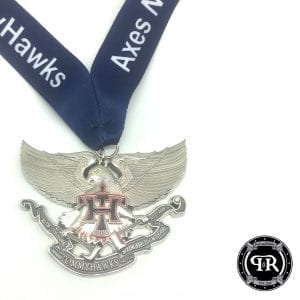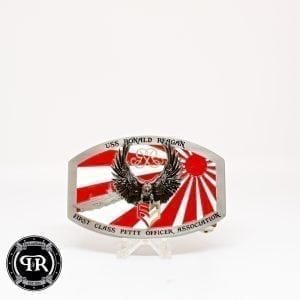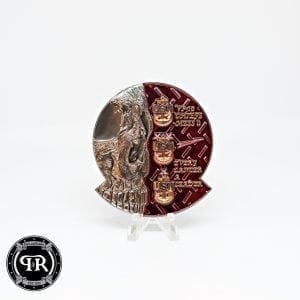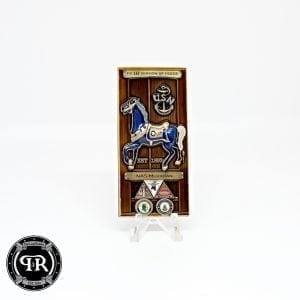 Custom Military Challenge Coin Designer
When Terry isn't working on the metrics of the business, he's in the trenches designing some really badass Custom military challenge coins!  All of Pitch and Rudders Custom designed Military Challenge Coins are finalized and approved by Terry before leaving the company and going to the customer.  This helps keep all of Pitch and Rudders military Challenge Coins looking the same even though the were designed by a team of five.  Some of the coolest military challenge coins that he has designed are located here in our Gallery of Coins; however, here are some of his favorites!  Terry focuses on the emotional connection someone should have when they are palmed one of your military challenge coins.  The design has to be on point and if you can convey a connection with a coin; than, to the company it's a slam dunk!  We do a lot of military challenge coins, custom buckles and kick ass lapel pins each week and month; its the pride in the design and commitment to our values that sets us apart from the flock.
Coined
It's that emotional connection that Terry wants to foster that got him to establish the Facebook group Coined.  It's not about trading or selling Military Challenge coins, its about the stories behind the coin that make so awesome.  You can Check out the facebook group, add your favorite coin picture and talk to a ton of like minded individuals!  Look for a new PODcast to be started in the coming weeks where we can highlight more of the personal stories behind the military challenge coin…. in Coined!
https://www.facebook.com/PitchandRudder/videos/1216999288474250/
A Deeper Look
For a deeper look at Terry,  Pitch and Rudders, Founder check out the following PODcast that he has been interviewed on:
#GOCUSTOM
If your interested in Rocking a One of a Kind Design, built from a Veteran founded team we've have made it easier than ever to #gocustom with us!  Click the Link, fill out the form and let's Get started rocking something custom for you that sets you apart from the crowd.  Take a look at our Services and lets match a designer to your needs and knock your project out of the park!