The Concept
When we look back over all the projects that we have completed over the last two years, there are a few that just stand on their own as easily some of our favorites! NAF Atsugi has to be on the hardest designed challenge that we have had the privilege to design from the ground up. It was our First Puzzle Challenge Coin It tested what we could do as a manufacturer! It tested what we could bring to life from metal. Before we were able to bring to life one of favorite  custom designed challenge coins, lets start from the beginning! The design concept was pretty straight forward, the client wanted a dragon chasing its tail that broke apart into six pieces to represent the commands on the base. We immediately knew it was a project that we wanted to do! the issues we had to get around:
weight // if its too heavy it would fall apart in your hand, not much of a puzzle challenge coin if it does that…. More like a stale nasty cookie, no one wants that!
thickness. how do we get the detail, but keep it thin enough to get the weight down. Also had to be thick enough to hide the magnets
Timeline, none of this was going to be a standard coin; however, the timeline was condensed due to the Season of Pride
Communication and Art
With every Coin that we work, our team got together and talked about the design and time requirements and possible pain points and how we could get around them! We designated a design lead for the project and it was off to the races! This project Grady got to business and started with a hand drawling of the dragon. Once completed he digitized and submitted to the client for approval. Due to the abbreviated timeline, we remained in constant contact with the client over the next few days to hammer out the projects and when we were completed it was ready for CNC. For those of you new to the Custom Challenge Coin game, there are three different types of Art prior to having a coin made.
Concept, this is done by your company depending on their skill they may or may not use the second type of art
Factory, this is the concept art redefined by the factory, we don't use this version of art
CNC Art, ALWAYS REQUEST THIS, this is the computerized 3D landscaped of elevation of the coin. A non color version of what the coin will actually look like when it is created. Of course we would love for you to use us when making your custom coins; however, if you don't ALWAYS request this image prior to sample.
Adapt and Overcome
Now here is where we started understanding the issues that we were tackling and how to fix them. We were looking at making a Big bold coin, that wasn't going to work in this project. The first request from the client was that the dragon be 8mm thick and the inside be 4mm like a standard designed Challenge coin. Here lies the problem, as soon as we starting working the math into the equation. yep, we design Challenge coins and I just wrote that we used Math our Pizza Dragon Puzzle design Challenge Coin was out the window! the Stuffed Crust dragon would be too heavy to keep the center together. Back to the design board, how thin would we have to go to make it workable? How would we make the 3D still Kill? Oh and yeah, still need to make sure we have them on time…..
So I started reaching out to our manufacturing partners about different processes, 95% of all Custom Challenge Coins are created in the same manner. We CNC a reverse mold and we press the two pieces together like a clam shell with a softer metal in the middle. But with that we need deep lines for great 3D cuts. Now there is a second method where each coin is CNC'd one at a time, the process is pain staking longer (here's that time thing again) but the detail would be amazing very little polishing was required prior to plating (gained some time back) this might be the winner.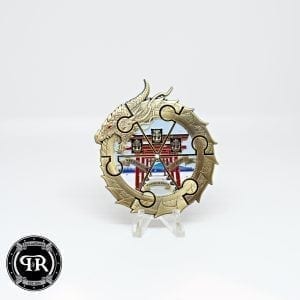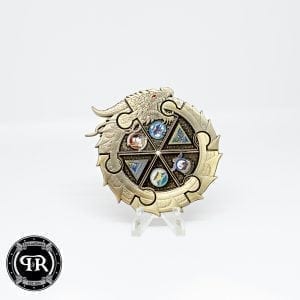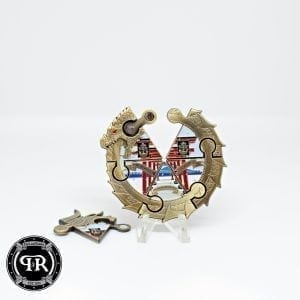 Final Thoughts
So after careful thought and communication with both the client and the manufacture we proceeded with the CNC manner and what you see is the final outcome. An amazing beautiful work of art that masquerades as a Puzzle designed custom Challenge Coin!