Differences in 3D, 2D and Offset Print Challenge Coins
Creating a design is the most exciting part of ordering challenge coins. It gives our clients a chance to let their imaginations run free and a place to bounce ideas off the walls and see what sticks. Through years of experience, we have become experts on the ins and outs of the design process by creating one of a kind challenge coins for all walks of life. Our art team has skill and experience, and our sales team is friendly and knowledgeable. Together, they help every customer figure out what kind of coin is best suited for their ideas: 3D, 2D or offset print.

Each one of these styles will flesh out a design in a different way, and knowing which one to choose is the start of the whole process. When describing a coin as either 2D or 3D, we are indicating the number of levels on the coin face. A 2D coin has only two planes of metal: a raised surface and a recessed surface. A 3D coin has the potential for any number of levels with rounded and sloped edges between the raised and recessed portions of the coin face.

Offset print challenge coins look like they could fit somewhere in the middle of these two design options. Offset printing is the process of transferring an image onto a rubber "blanket" and then rolling that image onto the coins. It's called "offset" because the ink is not directly transferred onto the surface of the coins. It's a hard method to describe in words, but the final results speak for themselves. Take a look at the comparisons below to get an idea of how each style looks.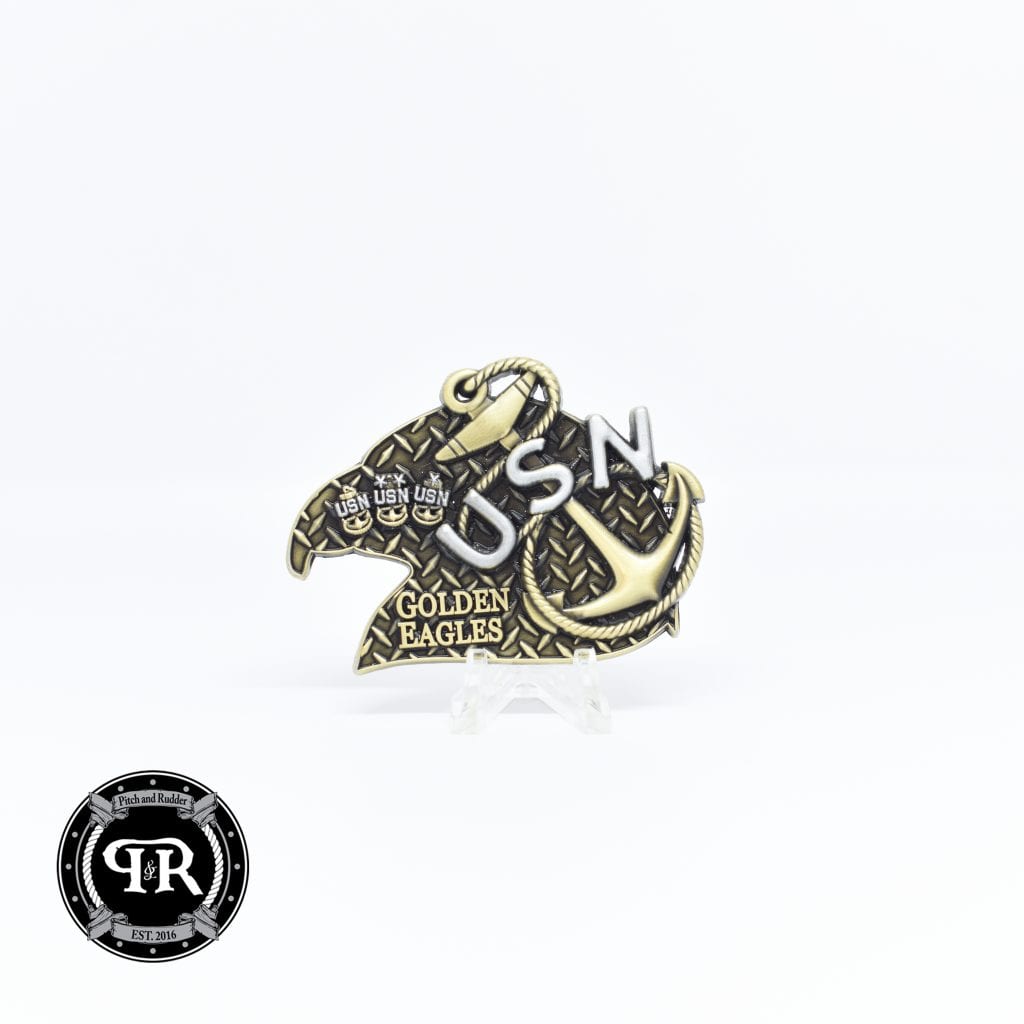 Choosing the Right Style For Your Design
Each of these styles comes with their own advantages and disadvantages when considering certain design factors. For example, 3D coins are excellent for adding depth and detail to a design but, ironically, we do not recommend using a 3D mold to depict a person's face. The human brain is hardwired to recognize facial features and expressions, so even the smallest imperfection is easily noticeable. Offset print coins work much better at capturing the likeness of an individual. Knowing which design to choose comes from knowing which styles are best suited for your design ideas.

3D designs are the best option for customers looking to create something with layered details and incredible depth. We make law enforcement challenge coins with 3D police badges that have the authentic ridges and curves of the real counterpart. Some military coins incorporate 3D images of emblems, equipment or vehicles like helicopters or trucks. The coin minting process starts with sculpting the mold with a 3D CAD file. Once the coins are minted, our production team puts them all through a meticulous deburring process that smooths out all of the rough edges and ridges, ensuring a uniform quality in the entire set.

2D coins only have two levels as opposed to the potentially limitless levels of a 3D design. But that does not mean they cannot have depth or substance in their set up and artwork. 2D coins are perfect for recreating company emblems and logos, military insignias and team mascots and colors. They are also perfect for creating stylized representations of people and faces. When comparing 3D and 2D coins the biggest difference is depth in design, however, 2D coins still offer plenty of avenues to create colorful and intricately detailed artwork.

Offset print challenge coins are the best option for anyone looking to recreate a picture or person's face. The final product is almost like a blend of the massive depth and detail of a 3D coin and the more paired down coin construction of a 2D coin. Making offset print challenge coins starts with designing a mold, just like any other coin, and the design image is transferred onto each coin after the minting process.

Coin size will play a role in how a design is implemented as well. For 3D artwork, we do not recommend going any lower than 1.5". 2D and offset print designs are better suited for smaller coins, however, we can work with almost any specifications or sizes. Standard coins range from 1.5" to 3", but we have made oversized coins and oddly shaped coins for all sorts of different customers. While there are certain challenges associated with any type of design, we stand by our ability to have any project produced and delivered within 14 days.
Knowing Where to Start
Challenge coins possess a personal quality that comes directly from our clients. Their ideas shape the entire project and the end result is something truly meaningful to their organization or team. Our job is simply to help each customer make those design inspirations a reality, and we hope that the information here offers the right starting point.

Knowing where to start comes down to knowing what type of challenge coin to choose.
3D challenge coins are the best option for adding depth and shape to a design. Choosing sizes over 1.5" helps to ensure that no fine details are lost as artwork is downsized onto a smaller surface, but our production team can make any size work.
Custom 2D coins do not have the same potential as 3D coins for layered textures but they still afford plenty of opportunities for intricate detail. The two levels on the coin face are perfect for recreating colorful logos, emblems and character art.
Offset print challenge coins show the exact likeness of a person or particular image. The final product is a perfect recreation of a supplied pictured and has a smooth surface and glossy shine framed within the borders of the coin.
When a client can't decide on just one of these styles, we tell them not to worry. It's entirely possible to order a coin with 2D designs on one side and 3D designs on the other. Or you can have a coin made with both 2D and offset print designs. Especially when a customer has their heart set on a 3D design, choosing to mix and match these styles is a good way to save money on the final product. Deciding what style of challenge coin to make will have the greatest effect on your order, so make sure to check out some examples and get inspired before getting started.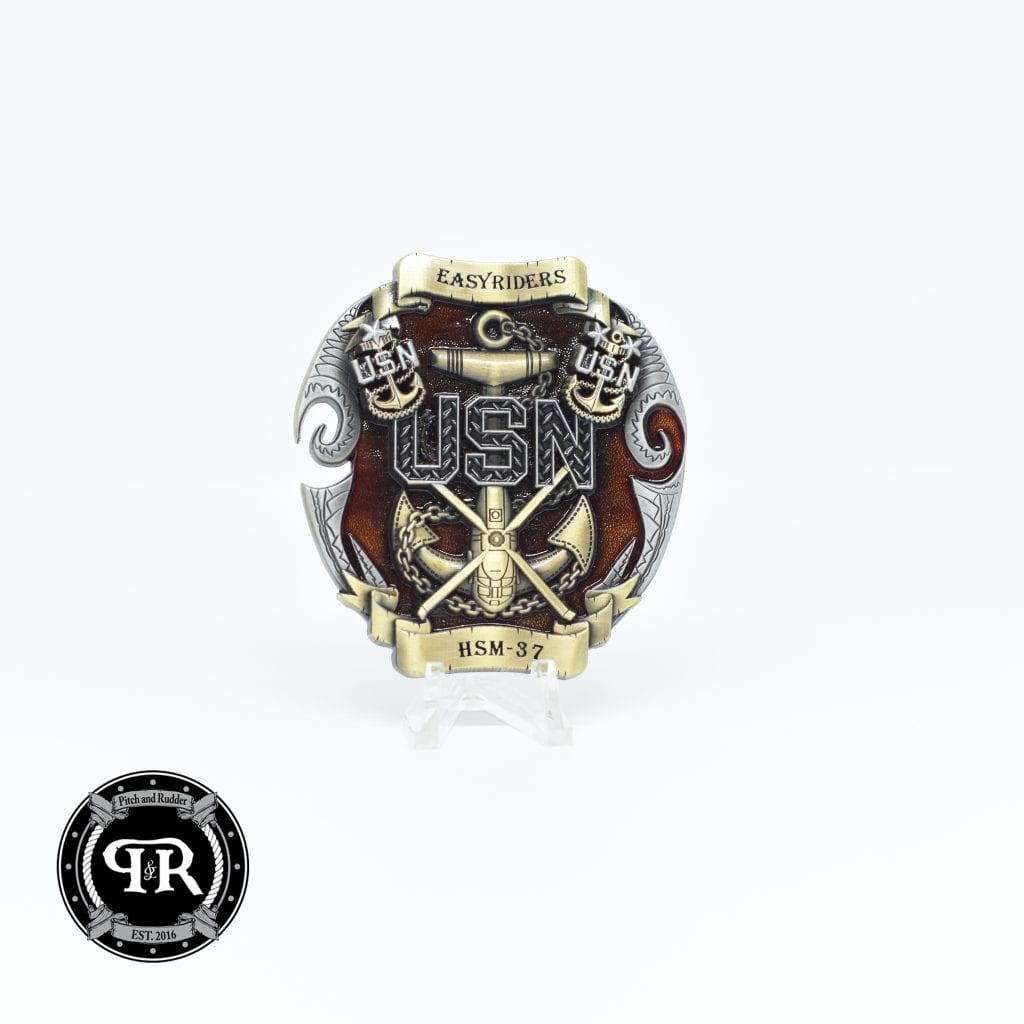 Making custom quality challenge coins and Military belt buckles are one of our specialties. If you're interested in getting a designing a custom buckle or Quality Challenge coin for your Division, Command, or Mess we've streamlined the process, click the get started link at the bottom of the page and someone from our design team will be with you within 48 hours to bring your vision to life. When your working with us, we want to be as transparent as possible if you're looking for shirts, you are going to be working with Chuck's and his Team, If you're working with metal you will be working with Grady's Team. If your interested in making something awesome in metal, so hot you need glove to put it on your belt check out Pitch and Rudders Custom Military Belt Buckles.